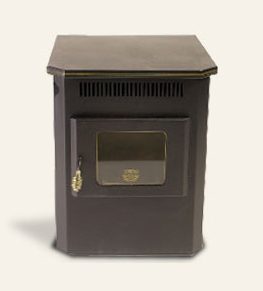 2100 N, Cherokee 30,000 BTU Corn Burning Stove
Amaizablaze Cherokee 30,000 BTU Corn Burning Stove AA 2100 N
Description The Amaizablaze Cherokee 2100 N is our best selling corn burning stove. This is the basic, complete stove, but includes no exhaust system and no base nor legs. Check one of our package deals to get the best pricing on everything you need for your installation.
Hopper Capacity 60 Pounds of corn
Adjustable BTUs 8,000 to 30,000
Hopper Burn Time Up to 48 hours
Heating Capacity Up to 1500 sf
Air Re-circulating Blower (1) 160cfm
Exhaust Direct Venting (through the wall) ready, Vent kit not included
Cherokee Specifications Width: 20.5 inches, Height: 24 inches (32 inches if legs added), Depth: 23 inches
Weight 150
Only logged in customers who have purchased this product may leave a review.