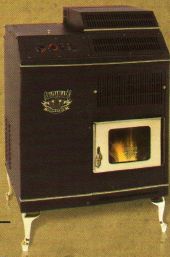 7100-CP Cheyenne Corn Burning Utility Furnace Package w/Direct Vent and Gold Legs
AA 7100-CP Cheyenne Utility Furnace Package DV with Gold Legs (Gold Door Pictured, not included.)
Description This handsome 7100 Corn Burning Utility Furnace Package includes Direct Vent exhaust and 24 kt Gold plated legs.
Direct Vent Provided for through the wall installation
Gold Legs Adds 8 inches of height, no need for insulation pad under stove, great looking 24kt gold plated legs, black door included.
Only logged in customers who have purchased this product may leave a review.