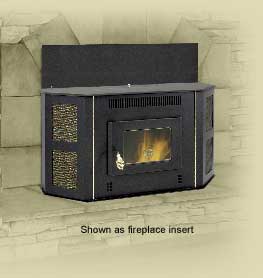 4100 N Iroquois 50,000 BTU Corn Burning Stove
AA 4100 N
Description The 4100 N is the basic 50,000 BTU corn burning stove. ...does not include a vent system. The fireplace panel pictured is not included.
Hopper Capacity 75 lbs corn
Adjustable BTUs 8,000 to 50,000
Hopper Burn Time Up to 38 hours
Heating Capacity Up to 2000 square feet
Air Re-circulating Blowers (2) Up to 320 cfm total
Air Filters 7 Layers/Reusable/Washable
Minimum Fireplace Dimensions Width: 27 inches, Height: 22 inches, Depth: 19 inches
Specifications Height: 21 and 7/8 inches, Width: 41 inches, Depth: 28 inches. Exhaust: 3 inches
Weight 240 pounds
Only logged in customers who have purchased this product may leave a review.